Your online Digital Facility Manual
With traditional project handovers, critical information is difficult to access, locked in siloed systems or documents, or is simply missing.
The Asset Twin built on Twinit, associates all handover information into an information model that allows facility operators to search, update and manage the information very efficiently saving them time, and consequences of delayed or incorrect actions taken based on bad data. The Asset Twin allows you to build and manage the equipment and space inventory, build systems that associate spaces to services and equipment, link the data and documents to relevant building elements and visualise them with intuitive 3D models or 2D drawings of the building. It's an online Digital Facility Manual" that provides key information to both your internal team and external stakeholders.
Applicable to both new and existing facilities, an Asset Twin can institutionalise knowledge, reduce risks, reduce response time and improve the overall experience delivered by the asset.
Contact us for a free consultation
Asset Twins on Twinit are transforming handover
An Asset Twin is a data-rich model, where all information can be easily accessed and analysed
As a "single source of truth" for building information, an Asset Twin can serve as an integration hub that provides access to detailed asset data (equipment specifications, performance requirements, warranty, testing etc.) and all relevant O&M documents (access for users or third-party systems)
Asset information helps building operators quickly resolve issues and make better decisions
Operators and FM technicians have access to detailed asset information like performance specifications, O&M manuals, or required parts
An Asset Twin helps minimize trips to the field - reducing maintenance time and cost. Operators can remotely diagnose problems and send the right technician to resolve the issue. FM Technicians can come prepared with the right tools and parts to resolve the issue efficiently and cost effectively
Additionally, operators can use warranty information to avoid paying for repairs that should be covered by manufacturer's or installer's warranties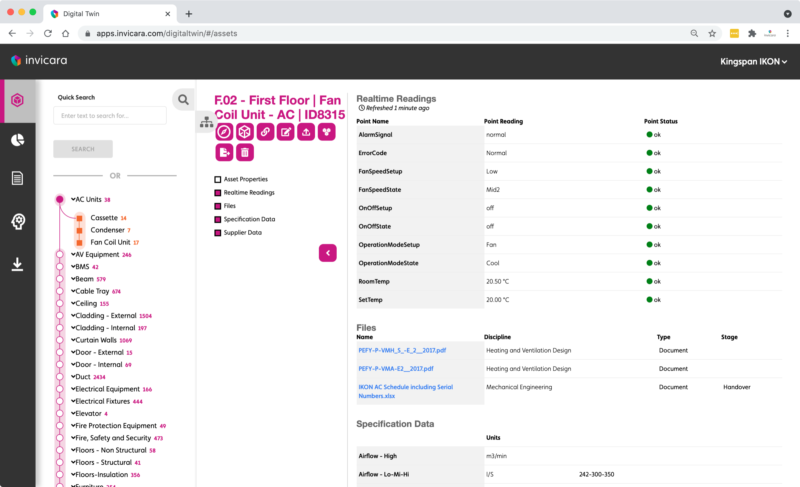 Asset Inventory
An Asset Twin holds critical data on your equipment, systems, and spaces. You'll know the "what and where" of everything in your building. It associates product information relating to specifications, warranty, performance data that defines the baseline expectations, ongoing inspections, preventive maintenance, O&M documentation, and any other information that you may want to manage.
With the ability to find and visualise systems in the context of rooms they serve, the Asset Twin allows the operator to diagnose problems. From finding an isolation valve to shut of a leak, or to find the upstream equipment that may be impacting space temperature or even finding the location of a solenoid valve that may be responsible to supply natural gas to the heating system. Whatever the problem, the Asset Twin will provide contextual information even to someone who is not familiar with the facility to make quick progress.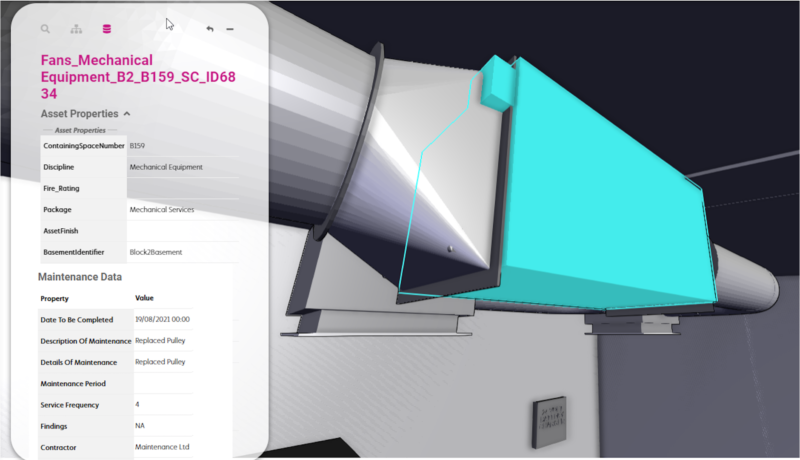 FM Apps Integration
Integrate asset master data with FM and maintenance Apps, and aggregate information from them to get oversight on open work orders, service history, inspections, lifecycle cost, leasing etc., providing a 360 degree view of your facility on a single pane of glass. You can customise the Asset Twin to serve the needs of the client, to fit their operations strategy and technology landscape.
The Asset Twin can provide third party applications the ability to integrate data and graphics managed by the Asset Twin. The APIs can be composed and the graphics viewer can be embedded as a component within their own use interface. Updates to the data in the Asset Twin can be automated through such integrations and allow. The ability to make asset data and documents easily accessible for technicians, enables issues to be resolved quickly and efficiently. What's more, you'll have a single system of record for your asset lifecycle history.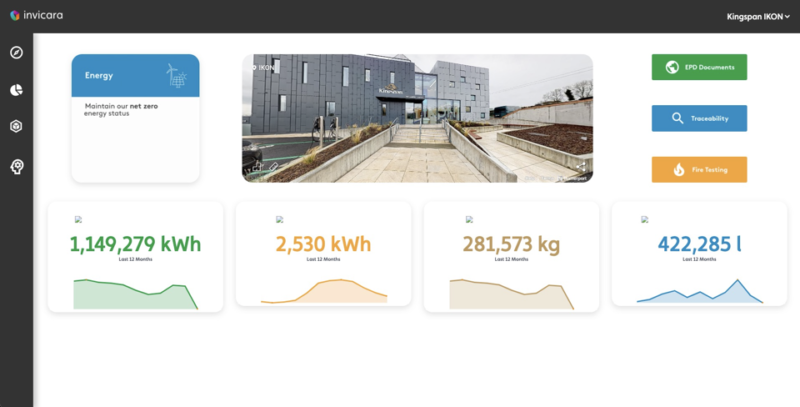 Systems Integration
The Asset Twin supports integrations with apps used for occupant engagement to capture service requests or integration with enterprise systems like financial management. Twinit provides a flexible environment to compose APIS for integrations or compose complete apps that target specific use cases = making it easy to share data and optimise your business processes.
Building a digital built environment together
Whatever your Digital Twin maturity, Invicara can assist you with your digital transformation. Contact us today!