Delivering Real Change for the built environment
With the leading fully composable platform for digital twins
Get in touch
Our mission
Invicara helps owners, operators and our partners create Digital Twins of buildings and infrastructure. Those Digital Twins serve as information and intelligence hubs that support more efficient, reliable, and healthy facilities.
We envision a smarter way of working—and an empowered industry. Our vision calls for richer, more accurate information driving the transformation of the entire ecosystem of the built environment.
The Invicara team came together to realise our vision. We're senior industry leaders and entrepreneurs with deep experience in every phase of the building lifecycle. From locations around the world, we apply our industry knowledge to the task of fulfilling our mission.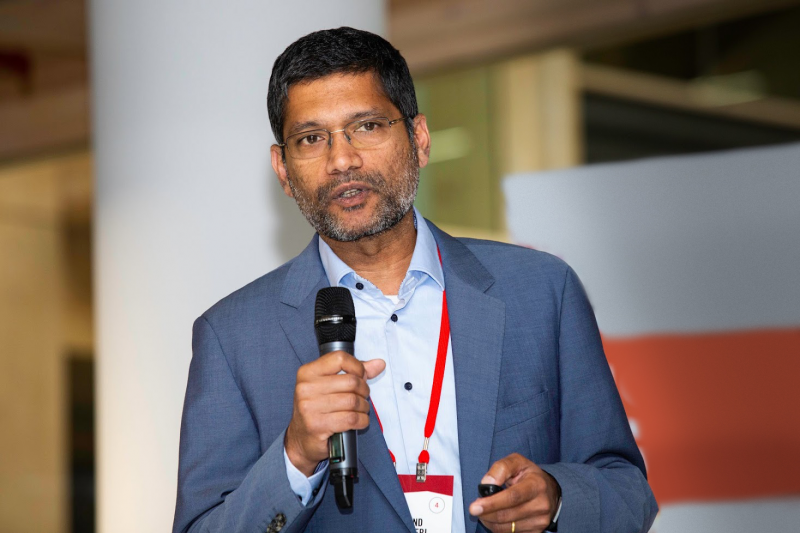 Anand Mecheri, CEO & Co-Founder Invicara
Our story
Invicara is a global company dedicated to Digital Twins of the built environment. Industry leaders turn to us because we offer the solutions and platform that deliver on the promise of Digital Twins.
Invicara does not view a Digital Twin as a product with a predefined set of functionalities, as some do. Our technology powers customized, interoperable, and intelligent solutions that work in unison. We're currently supporting projects in the United States, the United Kingdom, Ireland, India, and Singapore. An investment by Kingspan Group supports our mission and is helping us extend Digital Twins to manufacturing environments.
What We Do
The Invicara Digital Twin platform, Twinit.io, uses the power of data and integration to make the built environment more efficient and sustainable
Improve trust and transparency
Generate and capture accurate and complete datasets
Contextual data relationships (ontologies) - bespoke to your unique requirements
Evidence progress and compliance
Data provenance
Reduce inefficiency and waste
Improve equipment performance and asset life.
Reduce maintenance costs
Reduce churn
Reduce energy utilisation
Enhance sustainability and wellbeing
Enhance occupant experience and wellness
Enable circularity
Improve indoor air quality (IAQ)
Journey to Net Zero Carbon through embedded and operational carbon analysis
Enable monitoring and action
Single pane of glass from the portfolio level down to equipment level
Automatic fault detection alerts across systems and equipment
Operational KPI's
Integration to third party solutions to monitor and rectify issue
Leadership | Executive Team

Anand Mecheri
Chief Executive Officer
An entrepreneur since college, Anand has more than 25 years of experience in the smart building technologies and services industry. His passion is developing tech businesses both in respect to products and services.
His earlier ventures under the iMetrex Group included "DATS", India's leading electronic security, safety and building automation company, and "Europlex", an Irish technology company that built class leading security control equipment and integrated security management software. Siemens AG completed the acquisition of the iMetrex group in December 2009.
With a proven track record to envision, bootstrap, scale and create value in startups, Anand brings a wealth of leadership experience and business acumen to the team.

Edwin Blos
Chief Financial Officer
Edwin brings extensive experience in managing global businesses to the Invicara team. He has a background in building technologies having served as CFO for Siemens Building Automation in the headquarters at Switzerland for eight years. He also assumed international assignments as CFO in the automotive and energy sectors.
Before Edwin joined Invicara he was the head of corporate strategy, Americas for Siemens. His goal at Invicara is to establish a high performance culture and help the company create sustainable success. Edwin keeps the balance in his life by practicing ancient well being sciences from eastern cultures.

Vic Sanchez
Chief Operations Officer
Vic has more than 30 years of experience leading successful teams across multiple disciplines and industries. He has devoted his career to building successful global commercial businesses, including key roles at Hewlett-Packard, Autodesk, and several startups in the building and manufacturing space.
Prior to Invicara, Vic served as a Principal for Ascentage Group, a business development firm, where he helped small to mid-size technology companies scale and realize value. Prior to Ascentage Group, Vic co-founded and served as the Chief Operating Officer for OpenBOM, an integrated data management system for engineering teams and supply chains. Throughout his career Vic has held multiple C-level positions, leading several companies to merger and acquisition. Vic heads operations at Invicara, working closely with a global and talented team to ensure clients achieve successful outcomes.

Marty Chobot
Vice President of Enterprise Solutions
At Invicara, Marty works with clients to understand their needs and challenges, and then translates that knowledge into strategies for technology solutions. He focuses on helping clients drive both business value and sustainability with Digital Twin solutions for the built environment

Marty has helped bring technology products to market for more than 30 years. Prior to joining Invicara, he served in marketing, product management, and business development roles for a wide range of software companies and founded two consulting firms focused on serving technology companies and their clients.

Venkatesh L.
Director of Integrated Digital Delivery
Venkatesh has nearly 30 years under his belt as an architect in the AEC industry where he designed and managed large-scale construction projects. He spent most of that time at CRN, a well-known Indian design firm. There he worked on several high-visibility projects for companies such as Oracle, Nokia, Dell Computers, and CA Technologies, as well as several sports facilities including a Cricket World Cup stadium in the West Indies.
It's Venkatesh's passion for creative design and excitement for technology that brings him to Invicara. His focus is on maximizing Invicara's technology to benefit clients and driving project specific solutions. Venkatesh has a bachelor's and a master's degree in architecture.

James Murray
Director of Business Development
James is a seasoned business leader with more than 30 years of experience in international markets. A serial entrepreneur, he's successfully strategized, launched, and managed numerous companies in diverse industries. Included are a trading company with a global customer base, and a retail store offering 6000 products in the UK and online. James brings extensive customer service experience to Invicara, where innovative strategies and cost efficiency tactics helped his start-ups excel.
At Invicara, James focuses on developing commercial relationships by understanding the varied needs of clients and challenging requirements.
James has a bachelor's in commerce from the National University of Ireland, and is a past chairman of Ireland's Young President's Organization (YPO), a global networking organization.
Dr. Claire Penny
Director of Global Partnerships
Claire brings to Invicara a combination of her passion, experience and learning from the past 22 years, enabling her to effectively work with our partners to deliver Digital Twins to their clients. She previously worked at IBM for over 19 years where she was the Global Industry Leader at IBM for the Watson IoT for Cognitive Buildings group. She has a record of successfully converting innovation projects into commercialised, revenue generating products, and for driving results across matrixed global teams. She is renowned for her passion, getting things done, love of evangelizing, and is a prominent international speaker on IoT, PropTech, Smart Buildings, FM and Real Estate stages.
Claire's external commitments include Non-Executive Director on the board of CITA (Construction IT Alliance) Ireland and Non-Executive Director of Producer Register Ltd (PRL). She is also very active within the BSI and is involved with the revision of many British Standards relating to the Facilities Management.
She attained her PhD in 1998 from Liverpool John Moores University.
Non-Executive Board

Louise Foody
Director of Digital & Brand, Kingspan Group
Louise is the Director of Digital and Brand at Kingspan Group, where she is responsible for defining and implementing a digital transformation strategy as well as group-wide customer experience programs. She has worked in a range of roles for Kingspan during her 12-year tenure including Marketing Manager of Kingspan North America and Marketing Director of Kingspan Insulated Panels, the company's largest division.
Louise graduated with a BA in International Commerce and Italian from the National University of Ireland, Galway, followed by an MSc in Marketing Practice at University College of Dublin's Smurfit Business School.
Louise was named to the 2017 Women's Executive Network List of Ireland's most powerful women. These are women who, by their success, encourage other women to be ambitious and succeed.

Mike Stenson
Director of Innovation, Kingspan Group
Mike Stenson is the Head of Innovation at Kingspan, where he sets the innovation agenda for the company in research and development, new products, and future technologies. Before this role he was the Regional Operations Director for Kingspan for more than 11 years, where he managed the manufacturing and supply chain facilities across central Europe and Russia.
Mike has an MBA in Business from The Open University, and a BS degree in Physics from the National University of Ireland, Galway.

Rajeev Mecheri
Entrepreneur & Angel Investor, and Co-Founder, Invicara
With more than 20 years of experience in the building technology and services industry, Rajeev and his brother Anand co-founded India's leading security, safety and building automation solutions company. In addition, they also established a successful distribution and manufacturing business. Together they founded the iMetrex Group and completed the acquisition and transformation of an Irish security technology company, which resulted in the introduction of industry leading IP based solutions for integrated security management for global markets. Siemens acquired the group in December 2009.
Rajeev is currently managing the interests of Mecheri Holdings within India, with a focus on angel investment, manufacturing and real estate development and two joint ventures with German and Australian companies. Rajeev is the honorary consul for Ireland in Tamil Nadu, the founding president of EO Chennai, and the former regional chair of YPO South Asia.
Building digital built environment together
Whatever your Digital Twin maturity, Invicara can assist you with your digital transformation. Contact us today!
Careers
Visionary people make our Digital Twins of buildings and infrastructure a reality for owners, operators and partners. Invicara is a dynamic, cutting edge company who are on the bleeding edge of Digital Twin technology.
We are always on the lookout for new people. If you don't see an exact fit here, please feel free to send us your CV to
careers@invicara.com
.